Dr. Nitu Bajekal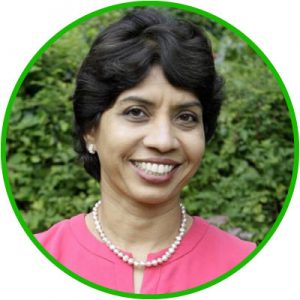 Nitu Bajekal, MD, is a Senior Consultant Obstetrician and Gynecologist (ObGyn) in the UK with over 30 years of clinical experience. She is a fellow of the Royal College and recipient of the India President's Gold Medal. Dr. Bajekal is one of the first US board-certified Lifestyle Medicine Physicians in the UK. She wrote the women's health module for the first UK university plant-based nutrition course.
Dr. Bajekal is the founder of Women for Women's Health (WfWH), a voluntary service organized to educate, energize and empower women to make lifestyle choices to help improve their own and their families' health. She is passionate about educating women, providing reliable medical and lifestyle information for the general public, doctors, workplaces and schools. Dr. Bajekal is a committed vegan, personally benefiting from this lifestyle.
---
Keynote: Women's Health and Lifestyle Medicine
Dr. Nitu Bajekal will explore the relationship between the main aspects of lifestyle medicine, including nutrition, sleep, stress, exercise, alcohol and smoking, as well as their impact on women's health. The close link between lifestyle factors and women's health at all stages of life will be examined and solutions offered to educate women on the positive changes they can make in their own lives as well as that of their families and friends. The difference between a whole food, plant-based (WFPB) diet and a vegan diet, as well as how beneficial this way of eating is for many aspects of women's health, will be discussed. There will be an interactive discussion with myth busting followed by a Q&A.
---
Managing Menopause
Dr. Nitu Bajekal will discuss the symptoms of menopause and how to recognize when a woman needs medical help. She will explain the role of a whole food, plant-based way of eating and exercise for managing symptoms of menopause, with the support of evidence-based medicine. The benefits of a WFPB way of eating to improve mood, sleep and energy levels will be discussed along with weight-loss benefits. The role of hormone replacement therapy alongside lifestyle measures will be addressed.
Dr. Bajekal will bust myths and answer questions, discussing the scientific evidence for the benefits of soya intake in various women's health conditions, especially during perimenopause and menopause. She will also examine ways to reduce one's risk of breast cancer and other lifestyle cancers.