Whole-Foods, Plant-Based Cuisine
The Holistic Holiday at Sea culinary experience is created by dedicated vegan chefs who stand out in the field of plant-based cooking. Using only the finest quality, natural whole foods available from companies with the utmost integrity, our nourishing cuisine will be one of the highlights of your vacation.
Our Philosophy
We believe that food should be deeply satisfying, healing, and nutrient dense. We know that what we eat is the most important component in the formula for a successful holistic lifestyle. We are deeply committed to feeding our guests plant-based meals that promote and sustain optimal health.
Commitment to Quality Ingredients
The Holistic Holiday at Sea menus are made almost entirely from scratch using high-quality whole foods. We opt for maple and rice syrups in place of cane sugar, honey, fructose or artificial sweeteners. We have a great team of international chefs, hand selected by Holistic Holiday at Sea, who prepare meals and desserts for your dining pleasure. We are using the finest quality natural foods available from companies with the utmost integrity.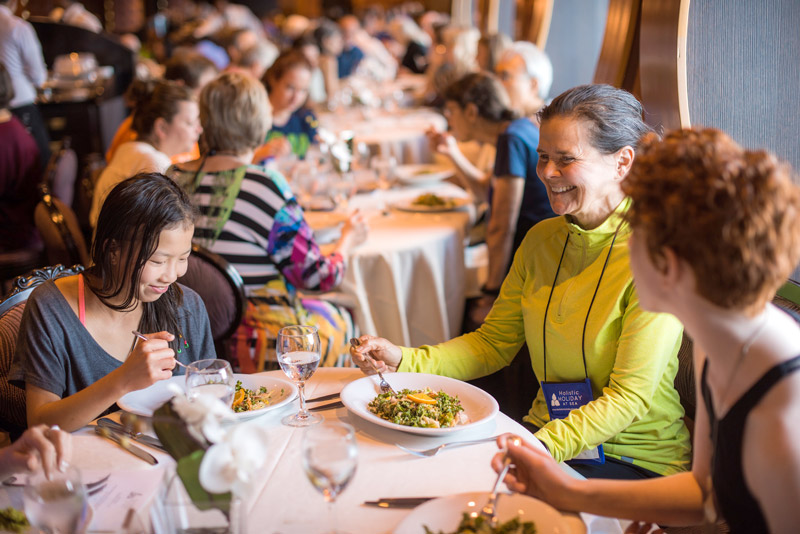 Oil-free and Gluten-free Menus Are Available
In addition to our 100% vegan whole food menu, we offer a second vegan menu with no added oil. Eating gluten-free is easy on the cruise - most of the courses are gluten free. Dishes containing gluten are clearly marked on the menu; just ask your waiter for the gluten-free version.
Traveling with a Standard American Diet Eater?
The journey to wellness is a journey with many steps. While we highly encourage everyone to stick to our plant-based menu for optimal energy and health during their vacation, items from the regular ship's menu are available on request as well.
Note: Ingredients for the vegan dishes being served at any given meal will be posted at the entrance to the dining room. If you have food allergies or sensitivities, please check the ingredient lists carefully, so you know what courses you may have to avoid.
Dining Areas
Holistic Holiday at Sea™ serves expertly prepared meals each day of the voyage, and meals are served in the elegant dining rooms by attentive waitstaff. Every meal is prepared with care and attention to detail under the strict supervision of our Holistic Holiday at Sea vegan chefs and bakers. We offer a full-service, sit down dining experience for breakfast, lunch, and dinner, however, you may opt to dine at the buffet, which serves a variety of cooked and raw foods in a dedicated vegan section for breakfast and lunch.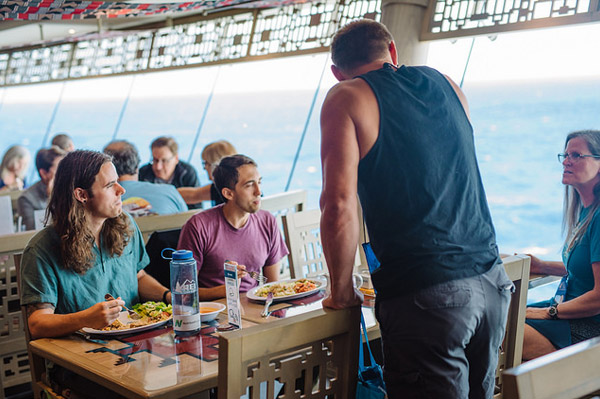 Robert Cheeke mingles in the Calumet Buffet
Dining Etiquette
Food is an amazing way to bring people together - during your meals, you will be enjoying the company of folks who are newly converted to the plant-based diet alongside those who may have been vegan their entire lives! The waitstaff is often from a diverse range of countries, and animal-free cuisine may be common in their culture, or it may be unheard of. While a large majority of the ship is comprised of our holistic group, there are also regular cruise guests onboard. We encourage everyone in our group to be ambassadors of the amazing benefits of a plant-based lifestyle by being inclusive, respectful, and compassionate.
Bringing Your Culinary Experience Back to the Mainland
If you want to serve the delicious Holistic Holiday at Sea menu to your family and friends, you can find many of our favorite cruise recipes in Greens and Grains on the Deep Blue Sea by Sandy Pukel and Holistic Holiday at Sea chefs. The cookbook will be available in our onboard bookstore, or you can purchase from Amazon.