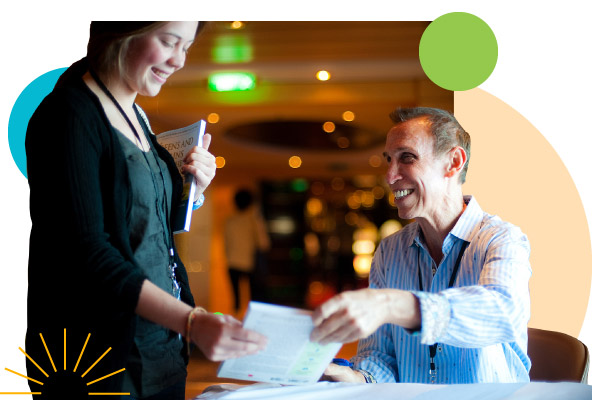 About Us
Established in 2004, Holistic Holiday at Sea is a vegan travel company with an international reputation for offering unique cruise experiences that combine exploration and relaxation with a passion for the plant-based lifestyle.
The company operates from Miami, Florida, and foremost considers themselves an educational company creating public awareness about the important roles that diet, nutrition, and lifestyle play in the maintenance of health and prevention of disease. With immersive adventures to beautiful and exotic places, the company's meticulously crafted vacations promote healing from within.
The HHAS Story
The vision of Holistic Holiday at Sea is to help people help themselves by offering holistic methods for achieving health and spiritual wellness and by offering financial support to other organizations that share their goals.
Holistic Holiday at Sea events have included classes or lectures on various alternative health practices such as diet, cooking, acupuncture, shiatsu, homeopathy, Oriental medicine, massage, acupressure, and spiritual practices such as Qigong, yoga, and meditation. Events are accentuated with specially-prepared vegan meals in an atmosphere of learning and relaxation.
In Good (Plant-Based) Company
The signature cruise program has been attended by thousands of participants and continually features nationally known and respected speakers. Notable speaker partners include:
Neal Barnard, M.D., author of Power Foods for the Brain
T. Colin Campbell, Ph.D, plant-based research scientist and author of The China Study
Caldwell B. Esselstyn, M.D., restorative cardiovascular health authority
Joel Fuhrman, M.D., nutritional medicine expert
Michael Greger, M.D., nutrition expert
Michael Klaper, M.D., plant-based fasting authority and radio personality
Yogi Amrit Desai, yoga pioneer
Rich Roll, ultra endurance athlete
Colleen Patrick-Goudreau, vegan author and speaker
Isa Chandra Moskowitz, author of The Veganomicon
Michio Kushi, macrobiotics pioneer
Marilu Henner, actress and vegan
Jessica Porter, author of The Hip Chick's Guide to Macrobiotics
Joan Borysenko, best-selling author and speaker
Bryant Terry, vegan chef and cookbook author
And many, many more!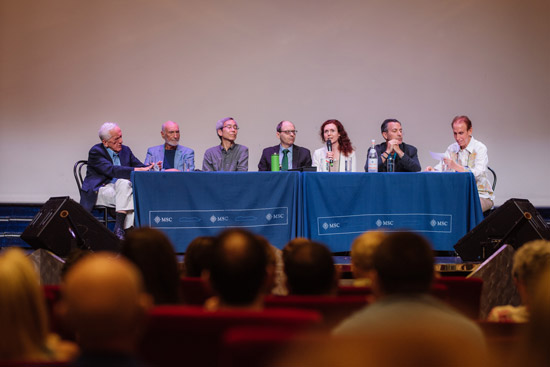 A panel with Dr. T. Colin Campbell, Dr. Michael Klaper, Dr. Lawrence Kushi, Dr. Michael Greger, Dr. Deanna Minich, Dr. Joel Kahn, and cruise founder Sandy Pukel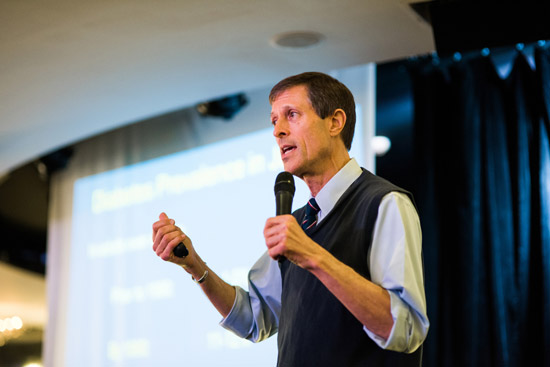 Dr. Neal Barnard always presents the latest data with a passion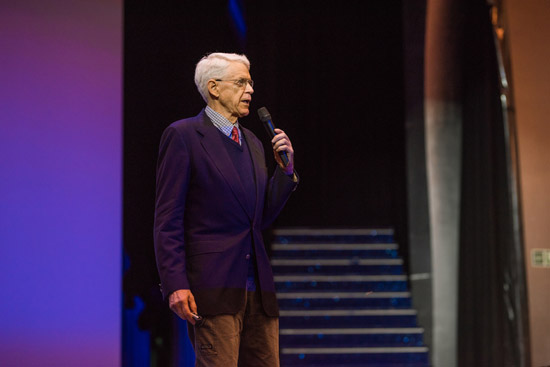 We've been honored to host Dr. Caldwell Esselstyn for several years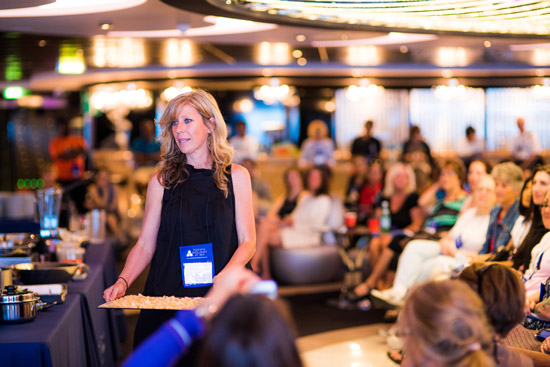 Colleen Patrick-Goudreau while teaching a cooking class onboard
Many HHAS programs offer continuing education credits for participating health and education professionals. Also, many of our teachers and speakers offer personalized one-on-one counseling on request.
From Woodstock to Wellness: The Story of HHAS Founder, Sandy Pukel
If Sandy Pukel looks familiar, it may be because he has appeared many times in south Florida newspapers, natural foods magazines, and even on national television. However, if you are a member of the hip generation, you may recognize him as one of the flower children who was interviewed, naked, in the film classic Woodstock. Sandy's transformation from a junk food eating hippie to one of this country's most influential advocates for healthy eating has been a spiritual quest of epic proportions!
After law school in the early 1970s, Sandy had a profound life altering experience. He happened to take a macrobiotic cooking class. The balancing principles of the macrobiotic way of life seemed to be a perfect fit for him, and soon he was focused not only on changing his lifestyle, but changing our nation's attitudes toward food and health.
With a $4,000 loan from his father, Sandy opened a natural food store, called Oak Feed, in the law office of a friend in Coconut Grove, Florida. Before long he moved to a larger location, and by the 1990s, Oak Feed was doing $2 million in annual sales and occupied one of the swankiest addresses in South Florida. What's more, as Coconut Grove grew and became a mecca for everything chic, the Oak Feed store became the place to rub elbows with the elite of film and sport. However, Sandy's good financial fortune and growing notoriety did not deter him from his bigger dream. With resources from his business, Sandy helped establish several macrobiotic foundations in Florida and began sponsoring conferences featuring macrobiotic world leaders such as Michio Kushi and Herman Aihara. As interest in macrobiotics, Eastern medicine, health and food grew, Sandy's workshops and conferences expanded to include nationally known teachers and speakers who attracted thousands of attendees in Florida, California, and Colorado. Proceeds from many of these events were used to educate school children about the benefits of good nutrition.
John Robbins, author of Diet for a New America, is one celebrity who has attended several of Sandy's conferences. "Sandy is one of the brightest minds in the natural healing movement," says Robbins about his friend.
In Sandy's own words, "My life is an expression of what I think is important. 'You are what you eat' is really true. Food creates the body and has a great influence on our mind and spiritual life. My dream is a peaceful, ecologically sane world, which I feel must begin with balanced eating."
In the Spring of 2004, Sandy and his partner John Belleme launched A Taste of Health, a fun filled cruise vacation with gourmet vegan fare and extraordinary educational opportunities. The cruise had 400 guests on its maiden voyage in 2004 and has grown to several thousand today!
In July of 2005, Sandy received the Aveline Kushi Award for his outstanding life-long service in promoting macrobiotics and holistic health.
Sandy and head cruise chef Mark Hanna published a cruise cookbook, Greens and Grains on the Deep Blue Sea, which features the recipes served by Mark during the cruise. True to his ideals, Sandy refuses to use foods that contain processed sugars and preservatives.
Although Sandy's motto is "everything changes," in many ways he is still the casual, friendly guy he was back in his hippie days. His approach to life is still very anti-establishment, and most days he can be seen riding around the Grove in his '73 orange beetle convertible wearing Bermuda shorts, Birkenstock sandals, and a bright flowered shirt. Like his store, Sandy is a Coconut Grove icon.