Julieanna Hever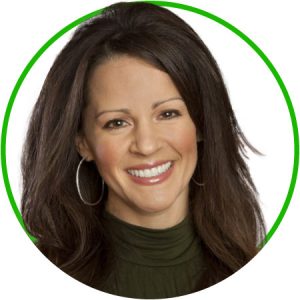 Julieanna Hever, M.S, R.D., C.P.T., The Plant-Based Dietitian, has a BA in Theatre and MS in Nutrition, bridging her biggest passions for food, public lectures and helping people. She has authored four books, including Plant-Based Nutrition 2E (Idiots Guide), and two peer-reviewed journal articles on plant-based nutrition for healthcare professionals. She was the host of What Would Julieanna Do?, gave a TEDx talk, and instructed for the eCornell Plant-Based Nutrition Certification Program. She's appeared on Harry, The Dr. Oz Show and The Steve Harvey Show. Julieanna is a Registered Dietitian, the Co-Founder and Nutrition Director for JustSides, and co-host of Home Sweat Home on Facebook Watch, where she shares a plant-based diet message of health and happiness.
---
Ask the Chefs with Chef AJ, Jessica Porter, Kim Campbell and Julianna Hever, M.S, R.D., C.P.T.
Come explore the wisdom and humor of long-time plant-based chefs. There is no question too simple or too complicated for this gang of experienced ladies. With more than a century of kitchen-time between them, they have seen it all, cooked it all, and are happy to share it with you.
---
Food Is Medicine: Simple Steps to Fill Your Plate with Delicious Food
A whole food, plant-based diet has been associated with myriad, significant health advantages. But transitioning to this new way of life may be overwhelming initially, as you learn this new language and your habits are being formed. From shopping to meal planning and stocking your kitchen to supplement needs, Julieanna will dive deep into practical solutions that make eating delicious, nutritious plants effortless. This lecture covers how to get the most of what a plant palate proffers.
---
Let the Myths Stop Here
Despite major technological advances in health and medicine, nutrition remains one of the most misinterpreted and confusing sciences of our generation. From carbs and protein to metabolism and weight loss, clashing opinions and mayhem in the media have resulted in mass misunderstanding of this most crucial, life-altering information. In this lecture, Julieanna will demystify some of the most pervasive myths and clarify just how simple nutrition really is.
---
Hummus Should Be a Food Group
Lovely legumes are a staple around the globe and supply superb nutrition. It is recommended that people aim to consume two to three servings of legumes a day. One of the most convenient, tasty and exciting ways to do so is by enjoying varied versions of the popular Middle Eastern bean dip, hummus. In this class, Julieanna and Ray will expound upon the benefits of legumes and demonstrate several simple and savvy hummus recipes with flavor profiles from around the world that you can easily whip up and enjoy anytime.
---
Soup Solution - How to Use Soups as the Key to Successful Healthy Meal Planning
If one meal represented the concept of family or community, it would be soups and stews. Traditionally, these are the foods we serve during troubled times for when people want comforting and satisfying relief from hunger. Soups stretch meager budgets and limited food supplies and date back to 20,000 BCE. The early boiling of starches seems to have originated in what is now China and Japan. It even predates modern agriculture. Soups and stews are quick and easy while providing all the wonderful nutritional benefits of a plant-based diet. In this class, Julieanna and Ray will cover the basic elements of broths and stocks and focus on bulk cooking and convenient healthy meal planning. These are flavor-forward foods that serve all of the family no matter what their diet choice. Soups and stews are a bridge between all diets and wonderfully satisfying for everyone.
---
Dressings and Sauces to Help You Fall (More) in Love with Vegetables
Almost everyone is falling short on eating the minimum recommended ten (yes, ten!) servings of vegetables (and fruits) a day, even though they are the most nutrient-dense, disease-fighting food group available. The secret to craving more veggies is all in the sauce. This class will deep-dive into how to make easy, delicious dressings and sauces to use across the culinary spectrum and help inspire you to amp up your love of veggies.
---
Cooking Boot Camp: Foods for Healthspan: Using the Food Triangle to Design Healthful Recipes and Meal Plans
Julieanna and Ray will walk you through simple steps, substitutions and deletions on everyday recipes that can pack healthful benefits into cooking without sacrificing flavor and enjoyment. They will help you once and for all ditch the protein, carbohydrates and fat food organization and replace it with a two tiered scale of experience and healthiness that gives you control of how healthy or enjoyable you want to be with each meal. Learn how to avoid excess added sugar, salt and fat without sacrificing sweet, salty and oily. We'll address the balancing act of sweet, salt, bitter, sour and umami and how all of these flavors can be easily accomplished with a whole food, plant-based diet.
$150/person, 2 hrs. 30 min.
---
Optimal Nutrition and Metabolism Strategies for Increased Healthspan
Struggling to take your nutrition to the next level? Have questions about weight loss? Dealing with hypertension, high cholesterol, poor blood sugar control or a recent diagnosis? For the first time, you can consult privately with Registered Dietitian, Julieanna Hever, and former NASA scientist and nutrition/metabolism disrupter, Ray Cronise, to strategize an effective personalized plan to meet your goals.
$500/person, 60 min.