A guide to finding the best room for a once-in-a-lifetime vegan cruise experience.
So, you're ready to set sail on a beautiful, luxury voyage with amazing food and inspirational programming all included. This journey will be beautiful, fun, engaging, and relaxing…all while supporting your vegan lifestyle, fitness, and health. The only thing left to do is pick your accommodations and book your spot aboard the MSC Divina! Just as the Holistic Holiday at Sea™ – Voyage To Well Being is not a typical vacation cruise, the eco-friendly MSC Divina is not a typical cruise ship. To begin, here are a few tools to help clarify the options and a couple of general rules to help you choose the best cabin for you.
Pro Tips
You can learn more about the cabin amenities that come with different room types here. Be sure to check out the deck plans before making your final choice. Rates increase as we get closer to the sailing date, so book early and take advantage of the discounts!
Rooms on decks 9-12 have only other cabins above and below, making almost all of them a good, quiet choice. There are many excellent options on other decks as well, and we have had almost no complaints about noise from anywhere on this ship, but we recommend looking at what is directly above or below the area you are considering.
Although many people prefer cabins relatively close to mid-ship, some love the panoramic views available in cabins across the front and back of the ship. Rooms across the back of decks 10, 11, and 12 have especially large balconies from which to enjoy those great views.
Allow us to walk you through your cabin options from economical to luxury…
Affordable Cabins
The most economical rooms on the MSC Divina are the interior or "inside" Bella cabins, most of which are located on decks 5, 8, & 9. If booked by April 24, 2019, the rate for double occupancy is $1,349 per person, and the rate decreases for each additional person, with a total capacity of 4 occupants. Children's rates are substantially lower than adults' rates, starting at $295 for children age 2-11, and $795 for those who are 12-17 years old.
Inside Fantastica rooms can be found on decks 10, 11, 12, and 13. These cabins include the "fantastica experience" amenities and currently have a double occupancy rate of $1,399 per person. Like the Bella rooms, their maximum capacity is 4 people, and rates are structured similarly for additional occupants and children.
Rooms with Ocean Views
Moving along the spectrum from the most economical cabins to more luxury rooms aboard the MSC Divina are the Bella and Fantastica cabins with ocean views. The "super early bird" double occupancy rate for a Bella room with a window is $1,549 per person, and these spacious rooms can be found on deck 5. The Fantastica ocean view double occupancy rate is $1,599 each, and these rooms are located on decks 5 and 8.
Rooms with a Private Balcony
For a next level (but still highly affordable) cabin experience, we recommend the Bella and Fantastica cabins with private balcony access! These are the most popular choice. In general, the Fantastica balcony rooms have a superior location. The Bella's current double occupancy rate is $1,699 each, and it's $1,849 per person for the Fantastica. Enjoy the ocean breeze from the comfort and privacy of your own room!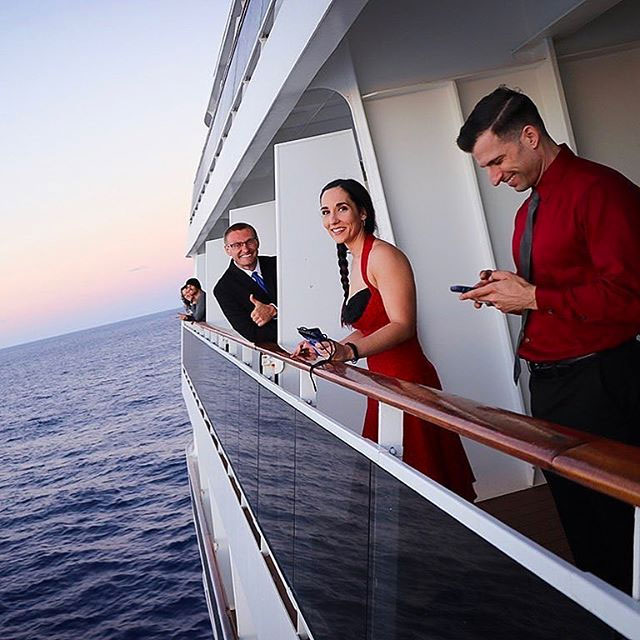 Luxury Suites
For an extravagant cruise experience, consider booking a suite on the MSC Divina. Aurea suites include ample square footage, panoramic views from the front of decks 9, 10 and 11, and lots of amenities. The current Aurea Suite double occupancy rate without a balcony is $2,499 per person and increases to $2,799 each with a private balcony.
For the ultimate luxury suite experience, consider the Yacht Club Suite, starting at $3,549 per person for double occupancy rates. This VIP Club level all-suite section has its own lounge, pool, 24/7 butler and concierge service, luxury bedding, and many other amenities.
What's Included?
Rates are inclusive of port charges of $159 per person, and specially prepared organic/natural meals, lectures, cooking classes, yoga, Pilates, and meditation classes, nightly entertainment, and the use of basic spa/health club and onboard facilities. Taxes and prepaid gratuities are additional.
Need to find a roommate?
The rate for single occupancy is approximately 1.8 times the double occupancy rate. If you do not want to room alone, it may be possible to find a compatible roommate and pay the double occupancy rate. However, this may take some flexibility on your part regarding the room category you choose. For detailed information please ask the Holistic Holiday at Sea travel agent when making your reservation. Contact us by phone (1-305-928-1098, option 1) or email b.hemraj@holisticholidayatsea.com.
More Questions?
Let's chat! Simply email info@holisticholidayatsea.com with your queries. We look forward to hearing from you!