Ray Cronise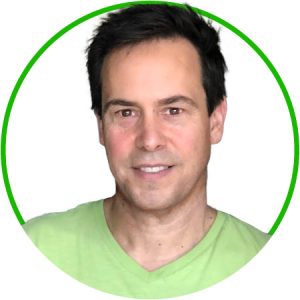 Ray Cronise is a scientist-innovator focused on diet and nutrition and co-founder of JustSides.com, a lifestyle transformation company. He co-authored Plant-Based Nutrition, 2E (Idiot's Guide) with Julieanna Hever and is the mastermind behind Las Vegas magician Penn Jillette's plant-based diet 100 pound weight loss. A former NASA scientist and Matthew Kenney and Blue Lotus Culinary graduate, he's collaborating with leading academic researchers at institutions such as Harvard and the NIH to publish work at the intersection of healthspan and plant-based diets. He's been featured in Wired Magazine, TEDMED 2010, ABC's Nightline, The Atlantic, The Daily Beast, Men's Journal, The Guardian, Penn Jillette's Presto! How I Made over 100 Pounds Disappear, and The 4-Hour Body.
---
Metabolism Defined, Deconstructed and Demystified
Despite what the media, the latest diet books, or even many healthcare professionals may claim, your metabolism is likely not broken. After diving deep into the history of metabolism, purchasing a "midlife crisis calorimeter," and then measuring hundreds of metabolisms firsthand, Ray will share his journey of discovering exactly how a metabolism works and how you can use a century of science to achieve and maintain your ideal weight.
---
Longevity and the Food Triangle: A New Mnemonic to Evolve the Language of Nutrition for Optimal Health and Longevity
Developed as a new tool to change the outdated, misleading dialogue of nutrition, the Food Triangle offers a unique opportunity to bring the conversation back to whole food. Using the latest research on healthspan and longevity, Ray will delineate how to translate the Food Triangle to practical advice that will help you optimize health using a whole food, plant-based diet.
---
Hummus Should Be a Food Group
Lovely legumes are a staple around the globe and supply superb nutrition. It is recommended that people aim to consume two to three servings of legumes a day. One of the most convenient, tasty and exciting ways to do so is by enjoying varied versions of the popular Middle Eastern bean dip, hummus. In this class, Julieanna and Ray will expound upon the benefits of legumes and demonstrate several simple and savvy hummus recipes with flavor profiles from around the world that you can easily whip up and enjoy anytime.
---
Dressings and Sauces to Help You Fall (More) in Love with Vegetables
Almost everyone is falling short on eating the minimum recommended ten (yes, ten!) servings of vegetables (and fruits) a day, even though they are the most nutrient-dense, disease-fighting food group available. The secret to craving more veggies is all in the sauce. This class will deep-dive into how to make easy, delicious dressings and sauces to use across the culinary spectrum and help inspire you to amp up your love of veggies.
---
Soup Solution - How to Use Soups as the Key to Successful Healthy Meal Planning
If one meal represented the concept of family or community, it would be soups and stews. Traditionally, these are the foods we serve during troubled times for when people want comforting and satisfying relief from hunger. Soups stretch meager budgets and limited food supplies and date back to 20,000 BCE. The early boiling of starches seems to have originated in what is now China and Japan. It even predates modern agriculture. Soups and stews are quick and easy while providing all the wonderful nutritional benefits of a plant-based diet. In this class, Julieanna and Ray will cover the basic elements of broths and stocks and focus on bulk cooking and convenient healthy meal planning. These are flavor-forward foods that serve all of the family no matter what their diet choice. Soups and stews are a bridge between all diets and wonderfully satisfying for everyone.
---
Cooking Boot Camp: Foods for Healthspan: Using the Food Triangle to Design Healthful Recipes and Meal Plans
Julieanna and Ray will walk you through simple steps, substitutions and deletions on everyday recipes that can pack healthful benefits into cooking without sacrificing flavor and enjoyment. They will help you once and for all ditch the protein, carbohydrates and fat food organization and replace it with a two tiered scale of experience and healthiness that gives you control of how healthy or enjoyable you want to be with each meal. Learn how to avoid excess added sugar, salt and fat without sacrificing sweet, salty and oily. We'll address the balancing act of sweet, salt, bitter, sour and umami and how all of these flavors can be easily accomplished with a whole food, plant-based diet.
$150/person, 2 hrs. 30 min.
---
Optimal Nutrition and Metabolism Strategies for Increased Healthspan
Struggling to take your nutrition to the next level? Have questions about weight loss? Dealing with hypertension, high cholesterol, poor blood sugar control or a recent diagnosis? For the first time, you can consult privately with Registered Dietitian, Julieanna Hever, and former NASA scientist and nutrition/metabolism disrupter, Ray Cronise, to strategize an effective personalized plan to meet your goals.
$500/person, 60 min.