James Aspey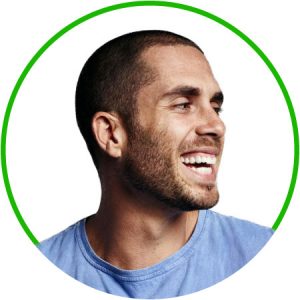 In 1994, James Aspey was diagnosed with leukemia and T-cell Lymphoma. After being told he had six weeks to live, he endured intense chemotherapy and remains in remission to this day. Now, over a decade later, James is vegan and an animal rights activist from Sydney, Australia. In 2014, he embarked on an unprecedented and life-changing challenge. James took a 365 day vow of silence to raise awareness for animals and promote peace over violence. He traveled throughout Australia and cycled 5,000 kilometers from Darwin to Sydney for his campaign, Voiceless365. He broke his vow of silence on Australia's most popular morning TV show in an iconic, live interview that was viewed by millions. Since then, James has shared more about his past, including a history of drug abuse and bulimia, and his road to full recovery. In 2016, he was tattooed for 24 hours straight to raise money for charity, and he has given over 150 free speeches on his journey. One of his speeches has over 11 million views online, and the list of people inspired by James is long and growing every day.
---
Animal Rights Leadership with animal rights advocates Dan Mathews, James Aspey, Will Tuttle, Ph.D., and Jonathan Balcombe, Ph.D.
Knowing what's going on is the best ammunition in the quest for animal protection and animal liberation. Ignorance is industry's greatest weapon, and spreading the facts will bring exploitative systems crashing to the ground. Join our knowledgeable panel to learn about the plight of animals used in the entertainment, experimentation, clothing, meat and dairy industries and how society is responding to the increasingly large and powerful message of the animal rights movement.
---
A Vow of Silence for the Animals
James will take you on his inspiring and entertaining journey from someone who didn't like animals at all and felt nothing when seeing slaughterhouse footage, to being so inspired and passionate about helping animals that he took a 365 day vow of silence to raise awareness for them and spread the vegan message. Find out how he navigated through his voiceless year and why he believes his campaign was so successful in reaching millions of people all around the world.
---
Compassionate, Effective Vegan Advocacy
James will share his best tips on how to help people go vegan and teach us skills that we can continue to develop in order to become the most inspiring and effective vegan activists we can be. His methods come from his trial and error experiences through thousands of interactions with people on the topic. James will also teach us techniques we can use to rise above the negativity and abuse activists are often faced with as well as methods to help navigate around people's defense mechanisms.