Ginat Rice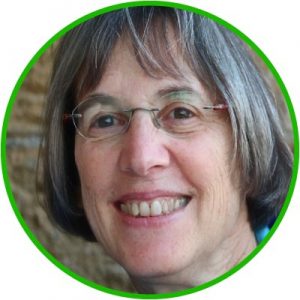 Ginat Rice is co-creator of the annual Whole Health Forum, a natural living retreat in Jerusalem. Ginat is a certified macrobiotic counselor and shiatsu therapist, and specializes in hand analysis and palmistry. She adopted a macrobiotic way of life in Israel in 1980, completed Level IV studies at the Kushi Institute and was co-owner in Boston of the Satori Natural Foods restaurant. She teaches internationally and frequently contributes to macrobiotic journals. With her husband, Sheldon, she directs macrobiotic activities in Israel. Ginat is the author of Food, Faith & Healing: 40 Stories of Cancer Recovery and co-author with Sheldon of the cookbook, Macrobiotic Meals, both available online. Visit Ginat at thericehouse.com.
---
Welcome to Palmistry: A Delightful Excursion
This class for the inquisitive mind makes palmistry easy. Reading hands is an intuitive and insightful indication of one's basic character and values, attitudes and actions. Elements of palmistry provide in-depth information about personality, career, health, relationships and love. We'll look at the mounts, lines, shape and size of the hand, the fingers and skin.
Finally, we'll consider sexuality, including demonstrations of same sex preferences. This class is fun, factual and facile.
---
Health in Your Hand – Diagnosis Line by Line
The hand can be used as an indicator of health conditions. Particular diseases are frequently accompanied by palmar abnormalities. In this way the palm and hand can be used to diagnose the body organs and major systems. The lines on the hand, its color, temperature and shape all provide clues. Explore the strength of your intestines, feel the vigor of your heart, and examine holistic avenues of natural health with Ginat.
---
Private Palmistry Hand Analysis
The art and science of palmistry hand analysis is based on an understanding that the part reflects the whole. It addresses both physical and psychological health, revealing our personality and the direction we are taking toward our fate. An analysis unveils conscious and even subconscious early childhood experiences and their adult manifestations today. Ginat's hand readings incorporate macrobiotic principles of balance and diagnosis as well as food-body correlations to corroborate and clarify personal life direction and meaning, all clearly revealed in the palm. The result is an accurate and fascinating understanding of oneself based on traits of early childhood behavior expressed in present habits. Knowing is halfway to changing. You are welcome to record our conversation and bring others to accompany you as observers and scribes.
$130/person, 50 min.
---
Combination Package: Numerology & Palmistry
Combination package: Private Numerology Reading with Sheldon Rice and Palmistry Hand Analysis with Ginat Rice.
$200/person, 90 min.