Giacomo Marchese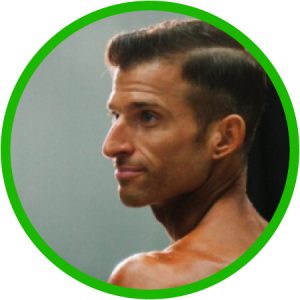 Giacomo Marchese has been vegan for over 10 years and involved with fitness for more than 20 years in many different arenas. He specializes in coaching others. As an athlete, Giacomo is actively competing in bodybuilding and powerlifting. He has won several awards and holds a champion title in both sports.
Giacomo uses strength-based sports & traveling to various vegan festivals across the country to raise awareness for animal rights and welfare. Together with his wife Dani, they co-founded VeganProteins, an online supplement store and coaching business. They also co-founded the largest and most diverse team of strength-based athletes in the world, Plantbuilt. Their last meet-up was in 2017 and they will be meeting again in 2019.
---
Powered by Plants with Vegan Athletes Robert Cheeke, Giacomo Marchese, Dani Taylor, and "Fitness over Fifty" trainer Larry Krug
Do you have questions about what athletes need to fuel their bodies on a plant-based diet? Concerned with getting the right types of carbohydrates to power through your weekend warrior lifestyle, or wonder how much protein you should eat after a tough workout? Learn from athletes who have achieved success in their sports, powered by a pure, plant-based diet. From endurance sports like running to weight training and bodybuilding, these four vegan athletes will help you fuel your athletic endeavors for optimal performance.
---
Vegan Muscle Team, Boot Camp
Pumping iron is great, but when you can't get to a gym and still need to train, resistance bands are a great portable way to make that happen. Burn a little rubber (and a lot of fat!) with this exercise band workout. All you need is one or more super affordable resistance bands and your own body and you can get your heart racing and your muscles pumping. Once you learn to train with resistance bands, you will have the confidence to train effectively anytime and anywhere.
---
Full Body Mobility and Flexibility
There is never a bad time to focus on flexibility and mobility. Over time, our joints and soft tissue become restricted. Resistance training and moving around more in general do help, but there is simply no substitute for spending quality time stretching our bodies out. Not only is it good for recovery from workouts, healing and longevity, it just plain feels good to be loose and limber. Join Giacomo as he takes you through a 45-minute stretching routine that will have you reaching for more.
---
Private Sports Nutrition Consultation
Is an active and healthy lifestyle your thing? And you're ready to put the work in, but aren't sure how to optimize your nutrition? Giacomo can get you there. As a professional bodybuilder and powerlifter, Giacomo spends the bulk of his time keeping up to date with the latest research and has extensive experience in applying it to his clients. Whether you are new to or in the advanced stages of your fitness journey, Giacomo will assess and walk you through a detailed plan of action to optimize your nutrition goals. Take the guesswork out of meal timing, learn how to balance your plate, and find out how to apply a plan that will not just look good on paper, but will work for YOU and your lifestyle.
$150/person, 60 min.