Dr. Will Tuttle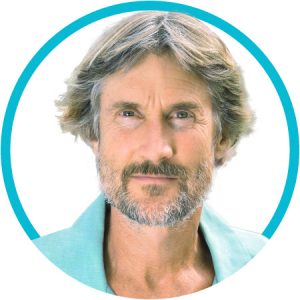 Will Tuttle, Ph.D.is the visionary author of the acclaimed best-seller The World Peace Diet, published in 16 languages. Recipient of the Courage of Conscience Award and the Empty Cages Prize, he's also the author of Your Inner Islands, on developing intuition. A vegan since 1980, he is a frequent radio, television, and online presenter, and is featured in Cowspiracy and other documentary films. A former Zen monk, Dr. Tuttle is also a noted composer and pianist. With his spouse Madeleine, a Swiss visionary artist, he lectures and concertizes extensively throughout the world, promoting peace and cultural awakening.
---
Thriving on the Journey - Lessons from 39 Glorious Vegan Years
Would you like to thrive as a vegan? For fifteen years? Twenty-five years? Thirty-five years? Dr. Will Tuttle, a leading figure of the vegan movement and 39-year vegan, has been promoting plant-based living for decades. A global traveler and presenter, he's been learning and sharing secrets from around the world that can help you also thrive as a vegan in every way, with healthy body, relationships and much more. His personal experiences will provide valuable insights about vegan communities, cuisine, health, and travel on six continents. 39 years of experience as a vegan – a treasure trove of experience is beckoning!
---
Healing Our World - A Deeper Look at Food
What are the cultural messages that we consume with our daily meals, and what kind of transformation can we help create when we're more conscious about our food choices? How do plant-based foods heal us and our world in unrecognized ways? Join Dr. Tuttle in exploring the hidden consequences of animal agriculture. This presentation illuminates the cultural and health impacts of our food system as the primary organizing and compelling force in our world, and provides some essential keys to thriving in our lives and being more effective advocates for peace, justice and healing.
---
Heart Teachings on the Dharma Path
The essence of spiritual practice is awakening to our original wisdom, beyond the confining delusions of our cultural conditioning. The foundation of this awakening is practicing mindfulness and compassion. Join author Will Tuttle, a former Zen monk and Buddhist practitioner for over 40 years, in a provocative and insightful exploration into the connections between spiritual practice and our daily lives, focusing especially on conscious eating. Building on his discussion in The World Peace Diet of Buddhist practice and universal spiritual teachings, Dr. Tuttle will be going in greater depth into these ancient teachings that clarify our understanding and positively transform our lives.
---
Meditation for Peace and Healing
Meditation is the art of cultivating inner stillness and clarity, and is one of the healthiest activities in which we can engage. You can join Dr. Will Tuttle for a meditation session in silence, which will be combined with short teachings about the path of meditation and practical ways we can deepen our practice and bring greater peace and joy into our lives. This class is equally open to beginning and more seasoned practitioners.
---
Animal Rights Leadership with animal rights advocates Dan Mathews, James Aspey, Will Tuttle, Ph.D., and Jonathan Balcombe, Ph.D.
Knowing what's going on is the best ammunition in the quest for animal protection and animal liberation. Ignorance is industry's greatest weapon, and spreading the facts will bring exploitative systems crashing to the ground. Join our knowledgeable panel to learn about the plight of animals used in the entertainment, experimentation, clothing, meat and dairy industries and how society is responding to the increasingly large and powerful message of the animal rights movement.
---
Piano Passion: Concert for a Conscious World
Dr. Will Tuttle composes and presents original uplifting piano music to affirm and co-create world peace, and for celebrating the beauty of the Earth and our spiritual potential. Rooted in ancient wisdom traditions that see music as a vehicle of consciousness, many find this music generates a field of healing and insight. The concert includes visionary art by Will's spouse, Madeleine, who is a nature artist and flutist from Switzerland, as well as accompaniment by Madeleine on several pieces on silver flute. You may be transported, uplifted, and carried to new inner places!
---
The Healing Power of Music: An Interactive Concert
Will Tuttle's uplifting original piano music evokes deep feelings and a sense of coming home. In this interactive concert, Dr. Tuttle invites us to listen in particular ways and shares evocative musical compositions created to help open inner doorways of imagination, healing and deeper understanding. Meditative listening pieces will be included, and he will be joined on some of the pieces by his spouse Madeleine, an artist and flutist.