Dr. T. Colin Campbell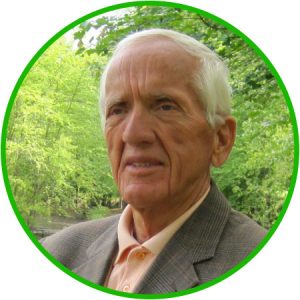 T. Colin Campbell, Ph.D., Jacob Gould Schurman Professor Emeritus of Nutritional Biochemistry at Cornell University, is an author of The China Study: Startling Implications for Diet, Weight Loss and Long-Term Health (Campbell TC and Campbell, TM II, 2005).
With more than 70 grant-years of peer-reviewed research funding (mostly NIH), he has authored over 300 research papers on diet, nutrition and health derived from laboratory-based experimental research and large-scale human studies in China and the Philippines. All of his research was funded by the U.S. taxpayer. He has been advisor to several government agencies, non-government organizations and corporate bodies and has been a member of several expert science panels with the National Academy of Sciences and the National Institutes of Health, deliberating food and health policy. He has held senior adjunct professorial positions at the University of Oxford in England and Jiao Tong University in Shanghai. His book, The China Study (2005), has been translated into 48 languages, now a record for health related books.
---
Keynote Lecture: The Historical Basis for Nutritional Mythology
In an effort to understand why nutrition is ignored in present-day medical circles, I discuss the history of this subject during the 19th and 20th centuries. The focus will be on the idea that disease, especially cancer, is a "local disease," with the basis for causation and treatment stemming from this hypothesis. An alternative hypothesis stating that it was a "constitutional" disease was rejected. The implications of this faux pas have been catastrophic and the massive War on Cancer, begun in 1971, has largely failed—hundreds of billions (trillions?) of dollars later.
---
The Mythology of High Quality Protein
Protein was first isolated from meat in 1839 and dubbed "of prime importance" and "the stuff of life itself." Animal-based protein gradually became the cornerstone of what is considered to be "good" nutrition, both in lay and professional discourse. In contrast, when it was established that plants also had protein, it was considered to be of an "effeminate" nature. Belief in the health value of animal-based protein ultimately became the centerpiece of a cult and any evidence questioning its value was dismissed with disdain.
---
Myths in Nutrition That Mislead, with Huge Consequences
Present evidence shows that consuming whole, plant-based foods provides dramatic health benefits. But the evidence for this message is being short-changed by highly questionable assumptions and claims in the vegan and vegetarian communities. This problem must be addressed in order for the skeptical general public to embrace this information.
---
Experimental Research Evidence on the True Value of Nutrition to Create and Restore Human Health
A rational and reliable understanding of nutrition was lost with the adoption of the local theory of disease during the late 1800s. As a consequence, nutrition is not taught in medical schools, is not among the 130 medical specialties enabling primary care reimbursement and enjoys no dedicated Nutrition Institute at NIH.
Nutrition, as provided by a whole food, plant-based dietary lifestyle, has considerably more value than generally known. For example, it controls genes—good and bad; it operates from whole foods, not from supplements; each nutrient requires a tsunami of biochemical mechanisms to cause an effect; and it can be used both to prevent and, in many cases, to treat already diagnosed disease. These evidence-based findings support a new understanding of the science of nutrition — defining a path to create more health and treat more disease than all the traditional pills and procedures combined.
---
Panel Q&A: Cruisin' for Knowledge ‒ Using a Plant-Based Diet to Support Health and Avoid Risks with Dr. T. Colin Campbell, Dr. Michael Greger and Dr. Michael Klaper, Hosted by Sandy Pukel
Don't miss this motivational, inspiring and informative Q&A with plant-based diet luminaries Dr. Michael Greger, Dr. T. Colin Campbell and Dr. Michael Klaper, hosted by cruise director Sandy Pukel. This is your chance to get all your questions answered. Whether you have been practicing a plant-based lifestyle for years or are just getting your feet wet, these experts can take you to the next level. Get the real scoop on living well, eating well and taking control of your health.