Dr. Ron Weiss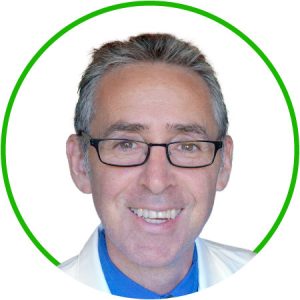 Dr. Ron Weiss is a physician and farmer. He is founder of Ethos Health, a farm-based healthcare system that connects human health to the natural world and promotes mindful, healthy ways of living. At the center of this system is Ethos Farm, a 280-year-old working farm in Long Valley, NJ, which grows produce using regenerative methods. These "living medicines" are used as part of an evidence-based diet of whole plant foods to reverse and prevent chronic disease. Dr. Weiss is a diplomat of both the American Board of Internal Medicine and the American Board of Lifestyle Medicine. He is also Assistant Professor of Clinical Medicine at Rutgers New Jersey Medical School. On most days, if he's not planting, you can find him practicing and teaching lifestyle medicine in an old wooden farmhouse right in the middle of the growing fields.
---
The Prevention and Treatment of Breast Cancer with Food
When Dr. Weiss graduated from medical school in 1988, breast cancer was diagnosed in one out of every eleven women in America. Today, 1 of 8 American women are diagnosed with the disease. How did breast cancer incidence rise so quickly? Dr. Weiss explores the reasons why and explains how breast cancer screening sometimes does more harm than good. He will explain the evidence and mechanisms of how whole unrefined plant foods are effective in the prevention and treatment of breast cancer. He will also discuss which foods provoke breast cancer and why.
---
Farm to Hospital: How the Way We Farm Makes Us Sick
The primary cause of America's healthcare crisis is not a lack of health insurance, nor is it skyrocketing drug costs or a dearth of primary care doctors. It is federal agriculture policy. In this eye-opening presentation, you will learn how billions of taxpayer dollars given to farmers to grow certain crops lead to trillions of dollars in unnecessary medical costs every year. Dr. Weiss will offer solutions as to how we can get American farmers to plant healthy foods, stop inundating the environment with chemicals, change the nation's eating habits and thus, drastically reduce healthcare costs.
---
Dr. Weiss' Top Ten Reasons to Eat a Plant-Based Diet
There are many reasons people give for adopting a plant-based diet, among them are the desires to get off prescription medicines, lose weight and prevent the diseases of aging. Having treated hundreds of thousands of patients as a working primary care doctor for over a quarter century, Dr. Weiss has formulated a personalized list of his top ten reasons for adopting a plant-based diet. In this exciting lecture you will learn the most important ways a plant-based diet can transform your health.
---
Alcohol and Your Health
Alcohol – friend or foe? Outlawed by prohibition in the 1920s, alcohol was once seen as a significant threat to an ordered society and our health. When consumed in excess, alcohol has long been known to have devastating effects on human health, but is there a moderate level of consumption that might be beneficial to our health? In recent decades, alcohol – specifically red wine – has been promoted as being very good for our health. What does the scientific evidence say? Dr. Weiss will explore these issues in detail.
---
Dr. Weiss' Comprehensive Health Assessment
In this one hour visit, Dr. Weiss will perform a detailed analysis of one's health. Patients will leave the visit with a customized road map that will allow them to treat and reverse current health issues while optimizing their health for the future. Dr. Weiss requests that all patients complete a detailed health history intake form and submit the most recent pertinent test results. He will review them prior to the visit.
$500/person, 60 min.