Dr. Neal Barnard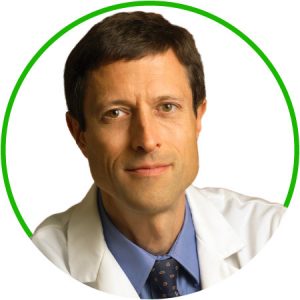 Neal Barnard, MD, FACC, is an adjunct associate professor of medicine at the George Washington University School of Medicine in Washington, DC, and president of the Physicians Committee for Responsible Medicine.
Dr. Barnard has led numerous research studies investigating the effects of diet on diabetes, body weight, and chronic pain, including a groundbreaking study of dietary interventions in type 2 diabetes, funded by the National Institutes of Health, that paved the way for viewing type 2 diabetes as a potentially reversible condition for many patients. Dr. Barnard has authored more than 90 scientific publications and 20 books for medical and lay readers. He is the editor in chief of the Nutrition Guide for Clinicians, a textbook made available to all US medical students.
As president of the Physicians Committee, Dr. Barnard leads programs advocating for preventive medicine, good nutrition, and higher ethical standards in research. His research contributed to the acceptance of plant-based diets in the Dietary Guidelines for Americans. In 2015, he was named a fellow of the American College of Cardiology. In 2016, he founded the Barnard Medical Center in Washington, DC, as a model for making nutrition a routine part of all medical care.
Working with the Medical Society of the District of Columbia and the American Medical Association, Dr. Barnard has authored key resolutions, now part of AMA policy, calling for a new focus on prevention and nutrition in federal policies and in medical practice. In 2018, he received the Medical Society of the District of Columbia's Distinguished Service Award. He has hosted four PBS television programs on nutrition and health.
Originally from Fargo, North Dakota, Dr. Barnard received his medical degree at the George Washington University School of Medicine and completed his residency at the same institution. He practiced at St. Vincent's Hospital in New York before returning to Washington to found the Physicians Committee for Responsible Medicine.
---
Cruising into Health
You are embarking on the most enjoyable vacation imaginable. Yes, it is a vacation in the sense of sun, leisure and exotic locales, but it's also much more. It is a vacation from old habits and old foods and the beginning of a whole new way of thinking about yourself and your health.
This week promises a wonderful opportunity to understand the hows and whys of healthy eating – while someone else does all the cooking – in the company of others who came to share the journey. Many people live their entire lives without eating the foods that truly promote good health. Deluged with conflicting messages about diet and health, they never receive straight answers to their questions. Here's your chance to get it all cleared up. The faculty – diverse, knowledgeable and experienced – will also cover the other keys to health: physical activity, stress reduction, meditation and more.
Let me encourage you to take the adventure for all it is worth. Some concepts and some tastes may be new to you. Experiment and enjoy them. Many come from centuries-old traditions, reinforced by the latest science. If you've always wanted to get on a healthier path, it couldn't be easier – you're cruising right into it.
---
Cheese - How Breaking the Secret Addiction Can Revolutionize Your Health
Many people are on a never-ending quest for weight loss, and they are looking in all the wrong places—blaming sugar, carbs or a lack of exercise for their problems. All the while, the real problem was right under their noses. Cheese can cause a surprising list of health problems: obesity, high blood pressure, arthritis and even prostate cancer. In this lecture, we will explore why cheese causes these problems and why it can be so addicting. Most importantly, we will look at how to break free. There are healthy versions of cheese-lovers' favorite foods—from pizza, macaroni and cheese, and lasagna to cheesecake—with loads of flavor and no regrets.
---
An Intensive Plant-Based Diet for Diabetes Management
Diabetes is more prevalent than ever. For many individuals the diagnosis means endless doctor visits and frequent trips to the pharmacist. Recent research has shown, however, that diabetes can be controlled and even reversed with an easy-to-follow, plant-based diet. By sticking to a few basic principles and making simple lifestyle adjustments, individuals can enjoy a surprising degree of control over diabetes.
---
Keynote: Your Body in Balance Part 1: Sex Hormones
Hidden in everyday foods are the causes of a surprising range of health problems: infertility, menstrual cramps, weight gain, breast and prostate cancer, and hot flashes. What do these conditions have in common? They are fueled by hormones that are hiding in foods or are influenced in various ways by the foods we eat. Most people have no idea of this connection, and their health is pummeled day after day by unwanted hormone effects. By understanding these hormonal effects of foods, we'll gain new power for health. This lecture will also include simple guidelines for reducing the risk of breast and prostate cancer and other forms of disease.
---
Your Body in Balance Part 2: Health and Metabolism
Food-related hormone shifts are at work in thyroid disease, blood sugar imbalances, and mood changes. In this lecture, we will review how to get back in balance. From its perch on the base of your neck, your thyroid controls your metabolism, your weight, and many other aspects of your health. It can be underactive or overactive, depending in part on food effects. Similarly, your mood can be changed by the foods you choose and other aspects of lifestyle.
While there is a role for medications for thyroid disease and mood regulation, medications have side effects and costs. For some people, diet and lifestyle changes provide an exciting new approach to these and other chronic health problems.