Dr. Michael A. Klaper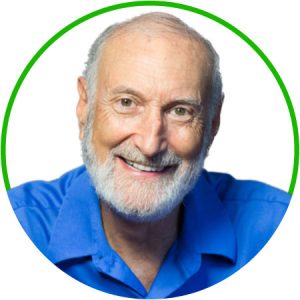 Michael A Klaper, M.D. is a graduate of the University of Illinois College of Medicine in Chicago and has practiced acute care medicine in Hawaii, Canada, California, Florida and New Zealand.
Far more fulfilling to him is his current practice, focusing on health-promoting food and lifestyle choices to help people stay out of hospitals and off of operating tables. He has authored numerous articles on plant-based nutrition and is authoring a book on using plant-based medicine to arrest and reverse disease.
A long-time radio host and a pilot, Dr. Klaper has served as nutrition advisor to NASA's programs for space colonists on the Moon and Mars and on the Nutrition Task Force of the American Medical Students Association.
To improve the health of his patients as well as his own, and to minimize suffering of sentient beings, Dr. Klaper adopted a plant-based diet in 1981. He currently practices nutritionally-based medicine at True North Health Center in Santa Rosa, California. His talent for presenting complex medical topics in a simple, enjoyable format has made him a sought-after speaker at health conferences worldwide.
---
The Most Hopeful Trends in Healing
In this wide-ranging presentation, Dr. Klaper explores some of the most hope-inspiring advances in healing worldwide, from the latest, high-tech medicine to the incorporation of ancient but effective nutrition-based therapies. Along the way in this global journey, important new understandings of how the body works and how it heals itself will be presented.
---
Salt, Sugar and Oil: The Good, the Bad and the Ugly
Would you continue to eat something if you knew it significantly raised your risk of developing tissue aging, high blood pressure, Type II diabetes, cataracts, blindness, kidney failure, stroke and other degenerative diseases such as arthritis and erectile dysfunction? Excessive consumption of salt, sugar and oils has been linked with all of these health scourges of modern life, yet there are effective and delicious strategies for seasoning your food without damaging your health. Dr. Klaper explores the realities of these three "king of condiments" – what they actually do in our body and how to be wiser in their use.
---
Healthy Bones: Preventing and Reversing Osteoporosis
In this fact-filled, yet practical presentation, Dr. Klaper explores the principles of keeping your bones strong and healthy without taking bi-phosphonates or other toxic drugs. Osteoporosis – fragile bones – is feared by everyone as they get older. Modern medicine just offers pills that distort bone physiology and excessive dosages of calcium for a disease that is NOT a calcium deficiency! Dr. Klaper examines how your bones work and how to keep them healthy so you can avoid osteoporosis and even reverse it if it has already begun. It's easier than you think, and this presentation will give you confidence that you, not your doctor, can help your bones stay strong and healthy all of your life.
---
Physician's Eye - Healer's Heart
What is it like to see through the eyes of the doctor? What does the healer see – and do – when s/he comes upon a scene of chaos and suffering? How do we contact and nurture the Healer we each have inside of us? In Physicians Eye – Healer's Heart, Dr. Klaper will share his personal journey into physician-hood and share insights into how doctors think, solve problems and make decisions that can dramatically affect people's lives. The healing visions seen through the physician's eye are shaped by wisdom gained by living life and by love that lives in the heart – valuable influences for us all to cultivate in these challenging times.
---
What I Wish I Had Learned in Medical School About Nutrition
In most medical schools, the students' curriculum serves up a disjointed assortment of disease states – clogged arteries, obesity, diabetes, high blood pressure, asthma, inflammatory arthritis, colitis and Crohn's disease, psoriasis, and their ilk – and tells the young doctors-to-be seeking the causes of these maladies that the "etiology is unknown." Medical education usually only provides training in mostly symptomatic treatments, using anti-inflammatories, statins, stents and bypass procedures. If only students were taught in medical school that the etiology of these and so many other diseases are not "unknown" – it's what our patients are eating! In this presentation, Dr. Klaper gives the lecture he wishes he was given in medical school and will discuss the common diseases listed above and show exactly how the food we eat can play a direct role in causing – or curing – these and other serious diseases.
---
Panel Q&A: Cruisin' for Knowledge ‒ Using a Plant-Based Diet to Support Health and Avoid Risks with Dr. T. Colin Campbell, Dr. Michael Greger and Dr. Michael Klaper hosted by Sandy Pukel
Don't miss this motivational, inspiring and informative Q&A with plant-based diet luminaries Dr. Michael Greger, Dr. T. Colin Campbell and Dr. Michael Klaper, hosted by cruise director Sandy Pukel. This is your chance to get all your questions answered. Whether you have been practicing a plant-based lifestyle for years or are just getting your feet wet, these experts can take you to the next level. Get the real scoop on living well, eating well and taking control of your health.