Dani Taylor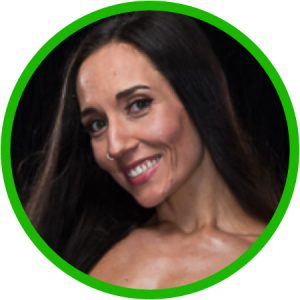 Dani Taylor was raised in a household that didn't value a healthy lifestyle. Money was scarce and macaroni and cheese with hotdogs was a regular meal. Despite becoming a vegetarian at age twelve, Dani continued to become overweight, eventually reaching 210 pounds by age seventeen. While writing a research paper in high school, Dani stumbled upon veganism, and never looked back.
In the seventeen years since then, Dani has turned around her health completely.  She lost ninety pounds and went on to become a champion figure competitor and a full-time vegan bodybuilding coach.  She and her husband Giacomo started VeganProteins, an online vegan coaching hub, founded Team PlantBuilt, the world's largest team of vegan strength athletes, and now tours the country with the Vegan Strong Team to promote a vegan fitness lifestyle.
---
Women's Boot Camp
Many women are intimidated by the idea of strength training because they do not know where to start. In this women-only fitness class, we will use resistance bands as a first step to getting comfortable using resistance, rather than just bodyweight, to train our muscles. Set aside your inhibitions around strength training and join us for a 45-minute session where you will learn how to use resistance bands for a portable, full-body workout in the company of other women.
---
Better Posture 101
Do you spend most of your day sitting in front of a computer? Does your posture suffer because of your job or your lifestyle? Join Dani Taylor as she teaches a 45-minute class to help you get unstuck! Learn stretches you can do throughout your work day and at home to help lengthen and strengthen muscles affected by sitting day in and day out. A yoga mat and/or a towel is necessary.
---
Powered by Plants with Vegan Athletes Robert Cheeke, Giacomo Marchese, Dani Taylor, and "Fitness over Fifty" Trainer Larry Krug
Do you have questions about the nutrition athletes need to fuel their bodies on a plant-based diet? Concerned with getting the right types of carbohydrates to power through your weekend warrior lifestyle, or wonder how much protein you should eat after a tough workout? Learn from athletes who have achieved success in their sports, powered by a pure, plant-based diet. From endurance sports like running to weight training and bodybuilding, these four vegan athletes will help you fuel your athletic endeavors for optimal performance.
---
Private Sports Nutrition Consultation
Whether you are just getting into fitness and don't know where to begin, or you've been training for years and are looking for ways to elevate your performance, a one-on-one consultation with Dani Taylor is a great way to get there. As a vegan figure competitor and strength coach, Dani has many years of working with clients of all levels and backgrounds, and she can help you to achieve your aesthetic, fitness or strength goals with a tailored vegan nutrition plan. Together, you and Dani will assess your current fitness/health situation, come up with attainable goals, and lay out the comprehensive plans to achieve success. You can also feel free to use your hour to ask any questions you've ever had about vegan sports nutrition, strength training or competing in bodybuilding as a vegan.
$150/person, 60 min.