Chef AJ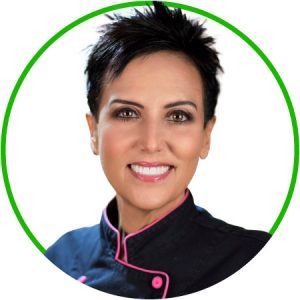 Chef AJ has been devoted to a plant-exclusive diet for over 41 years. She is the host of the television series Healthy Living with CHEF AJ and author of the popular book Unprocessed: How to Achieve Vibrant Health and Your Ideal Weight. Her bestselling book The Secrets to Ultimate Weight Loss: A Revolutionary Approach to Conquer Cravings, Overcome Food Addiction and Lose Weight without Going Hungry has received glowing endorsement by many luminaries in the plant-based movement.
She is the creator of the Ultimate Weight Loss Program, which has helped hundreds of people achieve the health and body that they deserve. Chef AJ was the Executive Pastry Chef at Santé Restaurant in Los Angeles and became famous for her sugar, oil, salt and gluten-free desserts. She holds a certificate in Plant-Based Nutrition from eCornell University and is proud to say that her IQ is higher than her cholesterol.
---
The Secrets to Ultimate Weight Loss
Chef AJ was first called fat at age 5, and by 11 she weighed 160 pounds, and that's obese. She struggled with her weight for over 50 years, until 8 years ago when she learned the secrets to ultimate weight loss and was able to easily lose 50 pounds without exercising or going hungry and effortlessly keep it off for over 7 years. No matter how long you have struggled with your weight, once you learn these secrets, you can actually lose weight eating large portions of delicious, healthy food without going hungry! Eat up, slim down and get healthy!
---
Eat Your Damn Veggies!
Everyone knows we should eat our veggies, but few folks actually do! Americans get over 92% of their calories from animal products and processed food and less than 10% from fruits and veggies! Vegetables are not only the food that is lowest in caloric density, but also highest in nutrient density and most linked to health and longevity. Enter Chef AJ. She will show you how to incorporate more fresh fruits and vegetables in your diet in ways that are easy, delicious and fun, with recipes from her new book. Learn how to make these nutritional powerhouses taste absolutely amazing!!!
---
Satisfy Your Sweet Tooth without Using Sugar
Americans eat over 150 pounds of sugar per person per year. That's over 900 calories per day from something that isn't even food, is linked to every disease known to man and has been found to be more addictive than cocaine. But who wants to desert dessert? Enter Chef AJ. The former Executive Pastry Chef at Santé, she will show you how to satisfy your sweet tooth using the fruit, the whole fruit and nothing but the whole fruit! Enjoy decadent yet healthy treats from her new dessert cookbook, A Date with Dessert. Chef AJ truly makes healthy taste delicious!
---
Ask the Chefs with Chef AJ, Jessica Porter, Kim Campbell and Julianna Hever, M.S, R.D., C.P.T.
Come explore the wisdom and humor of long-time plant-based chefs. There is no question too simple or too complicated for this gang of experienced ladies. With more than a century of kitchen-time between them, they have seen it all, cooked it all, and are happy to share it with you.
---
Ultimate Weight Loss Bootcamp
The Ultimate Weight Loss Program has helped thousands of people attain both the health and the body they so richly deserve. In this intimate workshop, Chef AJ will delve deeper into food addiction and how to manage it, sharing her Ten Commandments for overcoming your weight loss obstacles. Tips on eating healthfully outside the home and navigating difficult social situations will be discussed. Attending her "Secrets to Ultimate Weight Loss" lecture isn't mandatory, but is useful. Each attendee will be given an intensive questionnaire to fill out that Chef AJ will respond to in an e-mail after the cruise to keep you on track.
$150/person, 2 hrs. 30 min.
---
Coaching Session: Losing Weight the Unprocessed Way!
Have you ever been frustrated when you're eating plant-perfect, but you just can't get the scale to budge? Or maybe you're wrestling with food addictions that make sticking to your diet a constant struggle. As someone who has dealt with both of these issues, Chef AJ has successfully achieved and maintained a 50-pound weight loss. She has helped her students overcome their challenges to achieve real results in both health and weight loss. Don't believe the myth that getting to your desired weight means depriving yourself and being hungry all the time. Even if you're already at your ideal weight, Chef AJ can teach you how to set yourself up for success, so you will continue to thrive on a plant-based diet. In this private coaching session, Chef AJ will work with you to devise the perfect plan tailored to your needs. You will leave the hour session energized, inspired and with a renewed sense of hope.
$250/person or couple, 60 min.