Chef AJ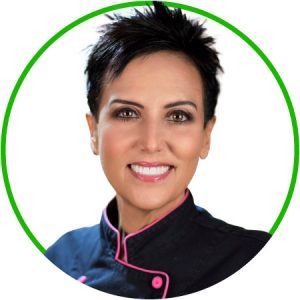 Chef AJ has been devoted to a plant-exclusive diet for over 42 years. She is the host of the television series Healthy Living with CHEF AJ, which airs on Foody TV. A chef, culinary instructor and professional speaker, she is author of the popular book Unprocessed: How to Achieve Vibrant Health and Your Ideal Weight, which chronicles her journey from an obese junk-food vegan faced with a diagnosis of pre-cancerous polyps, to learning how to create foods that nourish and heal the body. Her latest best-selling book, The Secrets to Ultimate Weight Loss: A Revolutionary Approach to Conquer Cravings, Overcome Food Addiction and Lose Weight Without Going Hungry, has received glowing endorsements by many luminaries in the plant-based movement.
Chef AJ was the Executive Pastry Chef at Santé Restaurant in Los Angeles where she was famous for her sugar, oil, salt and gluten-free desserts, which use the fruit, the whole fruit and nothing but the whole fruit. These recipes can be found in her upcoming book A Date With Dessert. She is the creator of the Ultimate Weight Loss Program, which has helped hundreds of people achieve the health and the body that they deserve, and is proud to say that her IQ is higher than her cholesterol. In 2018, she was inducted into the Vegetarian Hall of Fame.
---
Eat Up, Slim Down and Get Healthy
Have you ever struggled to lose weight? Do you know anyone who would like to lose weight? If you answered yes to either of these questions, this talk is for you. Even if you don't need to lose weight, you will learn what the best foods are to eat for overall health, disease prevention and even disease reversal. Once you understand the Secrets To Ultimate Weight Loss, you truly can eat more, weigh less and get healthy!
---
Cooking Class: Cauli-Power!
Cauliflower is a cruciferous vegetable that is naturally high in fiber and B vitamins. It provides antioxidants and phytonutrients that can protect against cancer. It also contains fiber to enhance weight loss and digestion, choline essential for learning and memory, and many other important nutrients. But some people think cauliflower is plain and boring. Chef AJ to the rescue! She'll show you how to make cauliflower go from bland to grand with recipes like Fettuccine Alfredo, Hot Spinach Artichoke Dip, All Star Tostadas, Honey Mustard Dressing and more.
---
Cooking Class: A Date with Dessert
Sugar is linked to just about every disease process in the body and Americans eat over 150 pounds of sugar per person per year. But what if you could still be healthy without having to desert dessert? Chef AJ, the former Executive Vegan Pastry Chef at Santé restaurant, will show you how to make healthy, yet decadent, desserts like Carrot Cake, a Mint Chocolate Mousse Torte and The World's Healthiest Apple Pie with Pear Whipped Creme, with recipes from her latest book, A Date With Dessert.
---
Workshop: Ultimate Weight Loss Intensive
In this small interactive group class you will dive deeper into what your personal weight loss obstacles are and how to overcome them. Chef AJ will answer all of your questions so that you will be armed with tools and a renewed sense of hope for achieving both the health and the body that you so richly deserve.
Prerequisite: Before attending this class, you must have either attended the Eat Up, Slim Down and Get Healthy lecture presented by Chef AJ or have read Chapter 2 of Chef AJ's book, The Secrets to Ultimate Weight Loss. Information forms for this group must be filled in at least 24 hours before the class.
$150/person, 2 hrs. 30 min.