Chandrakant Hiester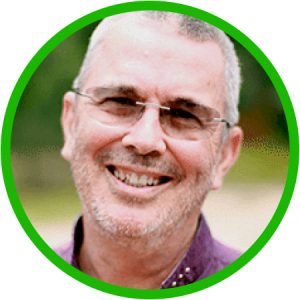 Chandrakant Hiester is a senior teacher and seminar leader at the Amrit Yoga Institute in Salt Springs, Florida. He prepares, presents and leads professional trainings both nationally and overseas in Amrit Yoga and Amrit Yoga Nidra, as well as a variety of other yoga and stress-reduction programs.
For the last eight years, Chandrakant has been instrumental in developing and presenting programs for the Amrit Yoga Institute. As a student and practitioner of yoga and meditation with Yogi Amrit Desai for thirty-eight years, his experience has given him a solid foundation for implementing programs that nurture and encourage positive changes in behavior, understanding and practice.
For over two decades, Chandrakant served in various capacities at the Kripalu Center for Yoga & Health. Among them was his service as executive chef, supervising the preparation of tasty vegetarian meals for 500-700 guests daily. He also served as Yogi Desai's personal valet and chef for twelve years, where he learned authentic Indian cooking from Yogi Desai's beloved wife Mataji.
Chandrakant is a preacher's son, a Vietnam-era veteran, a graduate of Rutgers University with a degree in psychology, and a longtime practitioner of martial arts. He brings a unique blend of street-level experience, understanding and practical psychology to all his seminars and workshops, conducting programs for educational organizations, recovery groups, community service agencies, hospital staff and large corporations, as well as yoga and meditation groups.
---
Daily Morning I Am Yoga: Meditation in Motion
The Integrated Amrit Method of Meditation in Motion is a unique yoga practice that experientially reveals how to connect, step by step, with the original source and purpose of yoga – using physical movement to enter the timeless state of being. The uniqueness of these morning sessions accommodates experienced practitioners as well as those new to yoga. The sessions focus on experientially revealing a recognizable attunement of inner stillness while engaged in action, any action, regardless of bodily flexibility. Our sessions are on the Sports Area where we are also able to accommodate friends who require a chair. Cultivating this experientially recognizable attunement not only transforms ordinary yoga postures, but also the ordinary activity of daily life into a Meditation in Motion.
---
Integrated Amrit Method – Integrative Relaxation: Breaking the Momentum of Stress
The first step towards genuine health and well-being is freedom from the effects of stress. Integrative Relaxation is a guided series of simple techniques that can be done lying on the floor or sitting comfortably in a chair. The combination of these simple techniques facilitates immediate access to a state of complete physical, mental and emotional relaxation. This deep state of relaxation is the entry portal into the state of consciousness where the causes of stress, tension, anxiety and fear can be effortlessly dissolved and resolved. Session includes a 20-minute Integrative Relaxation experience.
---
Integrated Amrit Method – The Experience of Indivisible Happiness
Yoga, very simply, means the direct experience of indivisible happiness. All of us are interested in experiencing happiness. And, we have all experienced that what we refer to as the "experience of happiness" when it seems to be broken into happiness/unhappiness. This session reveals the direct experience of an indivisible happiness, an evenness of mind. The experience of happiness that we all long for is, in fact, an evenness of mind in all situations.
---
Integrated Amrit Method – Amrit Yoga Nidra: Unleashing the Natural Intelligence of the Vital Life Force, Prana
Scientific data reveals that stress is at the cause of most health issues. Regardless of the symptoms, the ultimate solution to all stress-related disease is learning how to be relaxed on the physical, mental and emotional levels. A profound state of deep relaxation is effortlessly available to everyone through the Amrit Method of Yoga Nidra. This state of relaxation unleashes the natural intelligence of the vital life force, prana, to dissolve and resolve the physical, mental and emotional accumulations held at the subtle energic levels.
This deep state of relaxation also yields access to the domain of consciousness enabling the creating and shaping of the quality of life you have always wanted, using the creative energy of prana.
Session includes a 20-minute Yoga Nidra session.
---
Experience the Timeless Dimension – the Stress Free Zone – Through the Integrated Amrit Method of Yoga Nidra
You will be guided into the direct experience of energetic inner harmony, integration and balance. The experience of Yoga Nidra takes you effortlessly into the deep state of tranquility and stillness of slower alpha brain waves.
Yoga Nidra is the master key to:
Dissolving and resolving reactive dysfunctional behavior patterns
Creating, shaping and actualizing your deepest intentions
Freeing the trapped healing energy in your muscular and neuro-glandular systems
Yoga Nidra creates the necessary conditions for you to access the restorative, regenerative and healing processes of the innate intelligence of the vital life force, Prana. Experience the dimension of consciousness below the "ordinary mind" and unleash the intelligence of the vital life force effortlessly to:
Decrease high blood pressure
Accelerate healing and prevent premature aging
Strengthen your immune system
Bring a sense of ease and balance into your entire life's expression with this profoundly simple technique.
$50/person, 90 min.