Angelica Kushi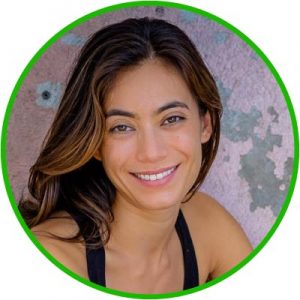 Angelica Kushi loves flying the skies as a professional aerialist and stuntwoman. When she's on the ground, she's a yoga teacher and health and wellness educator. Born and raised in a macrobiotic home, her education stems from a lifetime of living a holistic lifestyle. Specializing in creating a relaxed and easeful approach to health, her formal training is from the Kushi Institute, the Institute for Integrative Nutrition, and extensive studies in Yoga and Tibetan Buddhism with the Asian Classic Institute and Yoga Studies Institute. Her passion is to provide people with easy and accessible ways to live a nourishing lifestyle so they can live out their wildest dreams.
---
Vinyasa Flow Yoga Level I
Feel awesome alignment with this foundational class for newbies and life-long yogis alike. Your body is the vehicle for your life; treat it right so your body is fit to support you to live life fully. This yoga class is fun, energizing and educational. Sweat, laugh, love and learn.
---
Intermediate Vinyasa Flow Yoga
Get in the flow with this intermediate yoga class. We connect breath and movement to create energy and currency in your body. As a result, your mind will be awake and alert, ready to serve the world in your own special way. Sweat in the name of love!
---
Heart-Opening Meditation
Ever wonder how the Dalai Lama always has that gloriously glowing smile? Take a seat and enjoy the peace you'll find in these heart-opening meditations and visualizations inspired by the Tibetan Buddhist lineage.
---
Ayurvedic Astrology for Feeling Fine and Full of Life
Want to feel empowered and full of life? Want to embrace every part of you? Ayurvedic Astrology is a unique hidden treasure hailing from ancient India that outlines the best ways to live a full life. Discover the eight areas of the chart that unleash your unique beauty and strengths in the world. We each have a main sign that is the backbone of who we are. Are you a warrior, a goddess, a peacemaker, a hermit? Unleash your true strength and inner wisdom.
---
Private Yoga Session
Do you want a yoga class tailored entirely to YOU? Your body, your mind, your mood? Ask and you shall receive. Yoga classes are great, but they can't address exactly what you need, because there are sixty other people on the deck. Give yourself the gift of hands-on yoga assists and personalized attention to help you fully relax and enjoy your time out here on the ocean.
$125/person, 60 min.
$150/couple, 60 min.
---
Private Meditation Session
Is your mind running wild? Have you tried meditating, but found it hard to stick with? Let's talk real talk; meditation is amazing and challenging. You deserve the peace of mind that meditation provides! Give yourself the gift of personalized attention for your mind to chill out.
$125/person, 60 min.
$150/couple, 60 min.
---
Private Ayurvedic Astrology Coaching Session
Do you want to feel empowered? Do you want to love and accept all aspects of you? Are you looking for life-changing and life-affirming practical information? Ayurvedic astrology is a hidden gem of wisdom that outlines a clear path to live in alignment with who you are at your core. Are you ready to discover your cosmic DNA that is uniquely mapped out for you. Main highlights are finding your core sign, your archetype, the best foods for you to eat, emotional and stress-relieving techniques, your ideal career path and your life purpose. If you are ready to feel empowered, inspired and energized, then this is for you.
$150/person, 60 min.
$250/couple, 60 min.