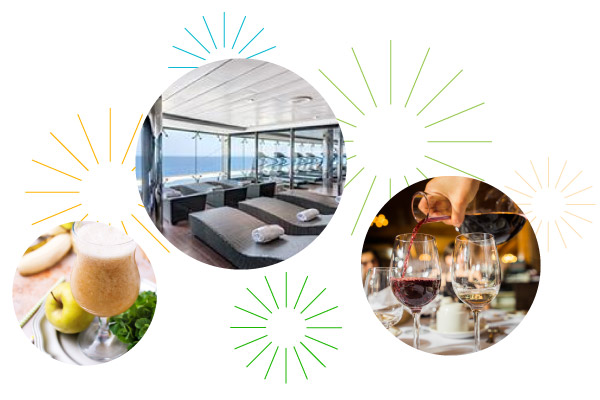 The Holistic Holiday at Sea cruise experience can be elevated with the purchase of extra services and amenities offered by MSC, such as packages for the internet, spa, and drinks! Purchasing them ahead of time results in significant savings. Save more money with discounted hotels and airfares!
Protect Your Investment with Travel Insurance
We strongly recommend vacation protection insurance. Cancellation penalties increase gradually and reach 100% of your trip cost in the last weeks before departure. Travel insurance provides coverage in most cases against losses caused by the cancellation or interruption of your trip due to job-related reasons, injury, sickness, or death involving yourself, a traveling companion or immediate family member. If you decline insurance, Holistic Holiday at Sea will be unable to assist you with refund claims.
Earn Onboard Credits for Referrals
Earn $50 of credit for each new paid guest (excluding your family members) who you introduce to our cruise. The credit can be applied to purchases in the Holistic Holiday at Sea onboard bookstore or for Holistic Holiday at Sea consultations and special workshops. When the guest is booking, make sure they specify your name when asked 'How did you hear about the cruise.'
Enjoy Discounts for Pre/Post Hotel Accommodations
Consider arriving to Miami the day before the cruise or leaving the day after your cruise. We have specially negotiated group rates at hotels near Miami International Airport.
Lower Fares on Flights
February/March is high season in South Florida and fares will be rising. Find the lowest fares and book now before airfares rise.