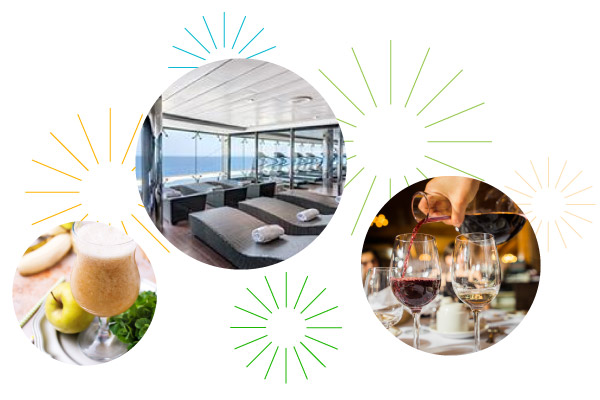 Save money and add extra amenities to your cruise experience
The Holistic Holiday at Sea cruise experience can be elevated with the purchase of extra services and amenities offered by MSC, such as packages for the internet, spa, and drinks! Purchasing them ahead of time results in significant savings. Save more money with discounted hotels and airfares!
DISCOUNTED PACKAGES
BEVERAGE PACKAGES
Protect Your Investment with Travel Insurance
We strongly recommend vacation protection insurance. Cancellation penalties increase gradually and reach 100% of your trip cost in the last weeks before departure. Travel insurance provides coverage in most cases against losses caused by the cancellation or interruption of your trip due to job-related reasons, injury, sickness, or death involving yourself, a traveling companion or immediate family member. If you decline insurance, Holistic Holiday at Sea will be unable to assist you with refund claims.
Earn Onboard Credits for Referrals
Earn $50 of credit for each new paid guest (excluding your family members) who you introduce to our cruise. The credit can be applied to purchases in the Holistic Holiday at Sea onboard bookstore or for Holistic Holiday at Sea consultations and special workshops. When the guest is booking, make sure they specify your name when asked 'How did you hear about the cruise.'
Enjoy Discounts for Pre/Post Hotel Accommodations
Consider arriving to Miami the day before the cruise or leaving the day after your cruise. We have specially negotiated group rates at hotels near Miami International Airport.
Lower Fares on Flights
February/March is high season in South Florida and fares will be rising. Find the lowest fares and book now before airfares rise.
Thermal Spa Package
Book now and save! Use code SPATSTD
Find inner calm and rejuvenate your body in the thermal area of the Aurea Spa. The thermal pass includes unlimited use of the steam baths, Finnish saunas and a relaxation area with a calming sea view. Taking advantage of the thermal spa area can help relax your muscles, eliminate toxins, boost immunity, increase your metabolic rate and relieve stress, tension and high blood pressure, providing a profound sense of wellbeing. Book online now for $68 per person and save. The projected onboard price is $105 plus a 15% service fee. Just use the code SPATSTD.
Please note: Preorders must be submitted no later than February 11, 2020.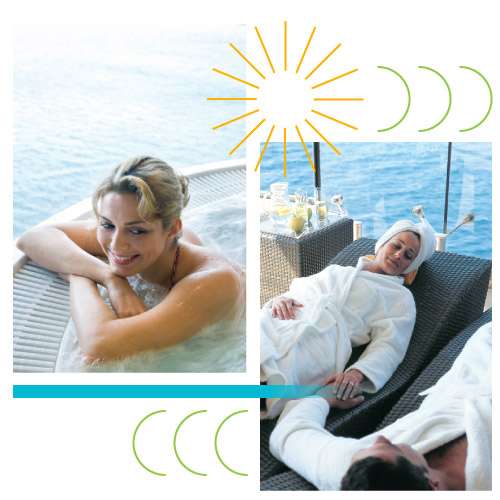 Internet Packages
Keep in touch with your world at sea via your smartphone, tablet or laptop! You can choose to chat and post on your favorite socials networks, or surf the web and email family, friends and colleagues. Internet packages vary primarily in the amount of data offered and the number of devices that can be used. When booked in advance, they cost substantially less than the onboard rate!
Video streaming is not available with any package (e.g. access to websites such as Netflix, Amazon Prime Video, Audible, Hulu, etc.).
If you reach your data limit before your cruise ends, you can recharge your package buying more data at a cheaper price.
Preorders must be submitted no later than February 11, 2020.
$51.90
FOR DURATION OF CRUISE

Ideal for limited internet usage
Web browsing, social networks, chat apps, email
$69.50
FOR DURATION OF CRUISE

Ideal for limited internet usage
Web browsing, social networks, chat apps, email
The projected onboard price is $99.90.
$99.00
FOR DURATION OF CRUISE

Good choice for heavy users or families
Web browsing, social networks, chat apps, email
The projected onboard price is $159.90.
$137.50
FOR DURATION OF CRUISE

Perfect for heavy users or families
Connect 1 device at a time (up to 10 devices)

Web browsing, social networks, chat apps, YouTube, email

The projected onboard price is $249.90.
Fun Pass
$68 for duration of cruise (projected onboard price is $85)
Prepare for all the fun you can handle and purchase your Fun Pass now. Valid for all guests in the same cabin. With the Fun Pass you can enjoy unlimited access to all attractions. Feel the rush while speeding through all of the Grand Prix official tracks in the Formula 1 Simulator, experience multiple new adventures in the Cinema 4D, and perfect your strike – bowling as often as you wish at the mini-bowling lanes.

USE CODE FPDSP07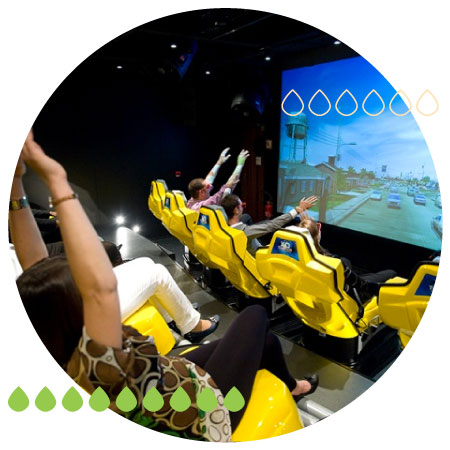 Beverage Packages
Enjoy vegan wine, fresh juices, smoothies, premium waters, and more! Many people choose to pair the specially selected vegan wines with our delicious plant-based dinners. Cool off in the afternoon with a drink from our exclusive vegan smoothie and juice package. Or choose from any of the other beverage packages offered by MSC Cruises.
Purchasing beverages in advance saves the 15% gratuity that is automatically added to on board purchases, and a package price saves more compared to buying individual drinks.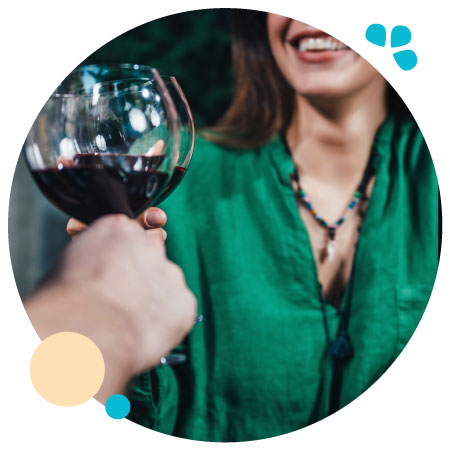 Please Note
You will receive vouchers that can be used for any of the drinks in your selected package.
Pick out your packages from the list below and note the code(s).
Packages can also be purchased onboard the ship, but a 15% gratuity will be added.
When completing the order form, only enter the drink package code and not a specific wine or other beverage selection.
To submit the order form, you will need your booking number, which can be found on your cruise invoice.
Deadline for preorders is February 11, 2020.